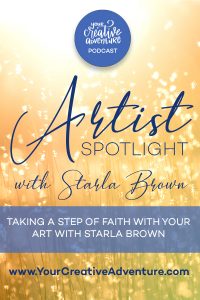 Starla Brown first started lettering and watercolor painting for personal reasons and to strengthen her relationship with God. 
Now she is taking a step of faith to sell her art and share creativity with more people. Her goal is to glorify God with her art. Listen to today's interview and be encouraged.
About Starla:
Starla Brown is a lettering and watercolor artist who still has a 40-hour a week career that is seriously cutting into her time to create! She is also a wife, mom to two great adult children and "NeeNee" to 4 adorable grandkiddos (with one on the way!) She loves spending time in the outdoors hiking, biking and kayaking, serving in my church, and, of course, making pretty things! You can find her art on Instagram @ihopeinhim and in her Etsy shop https://www.etsy.com/shop/HopeInBloomStudio
Listen to the interview here:
Subscribe to the Podcast: iTunes | Android | Spotify | RSS | Stitcher
Links and Resources Mentioned in this Episode
"Just start, do not expect to go fast and do not put off those expectations of yourself.  " – Starla Brown
Want to Go Deeper?
We love getting to know our listeners on a deeper level. Join our community of Christian artists in our free private Facebook group here: https://www.facebook.com/groups/yourcreativeadventure/
This is where you can share your artwork, get access to bonus training only available in the group, and share your prayer requests. Our team prays for each of your requests because we not only care about helping you make money as an artist, we truly do care about YOU!
Click here to join our community. It's free!
Also, we love to hear your takeaways from each episode. It encourages us to know how God is working in your lives. Take a screenshot of this episode or post a picture of your notes on social media and tag us @yourcreativeadventure and use the hashtag #yourcreativeadventurepodcast. This way we can share some of your takeaways in our Instagram stories as well.
Thank You, You're the Best!
Thank you for listening to this episode of Your Creative Adventure where we believe it is possible to make money as an artist doing what you love while glorifying God through your art.
Make sure you don't miss any future episodes by subscribing on iTunes here.
And we have a gift for you!
It means the world to us when you take a few moments to post a rating and review on iTunes. As a thank you, we'll send you our Plan It Day goal – setting worksheets, a $47-value, for free. Woot! Before you submit your review, take a screenshot and send it via email to [email protected] and we'll send you the worksheets.
We Believe in You
We believe you have been given unique creative gifts and a specific role to play in the kingdom of heaven that will make an impact for eternity. Join us next time as we partner with God to help you take your creative adventure further than you ever imagined.
Subscribe to our different podcast channels and automatically get notifications of our latest episodes. Listen and be inspired.
Keep Reading…