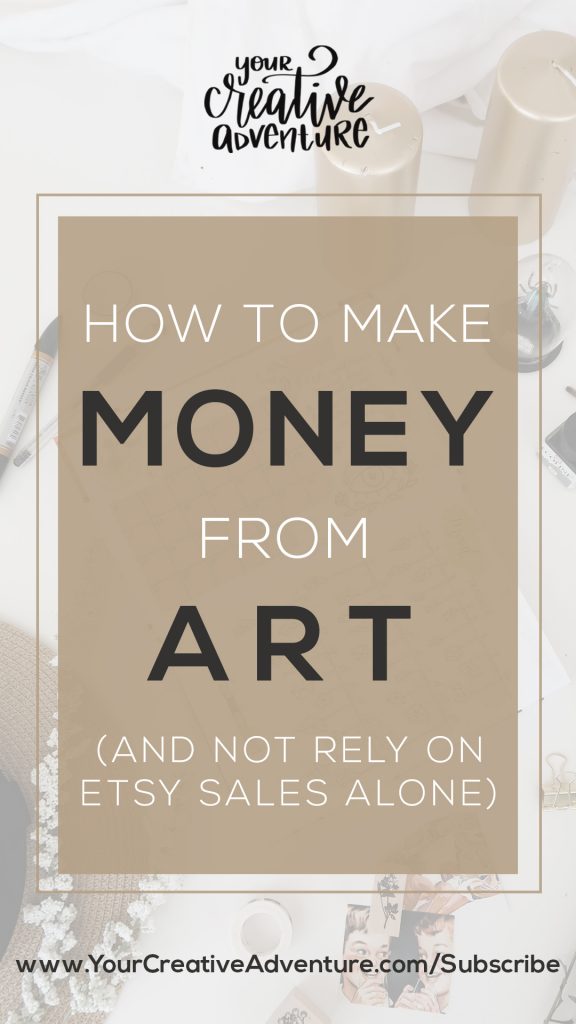 Want to get some creative money-making ideas that will help you make money from art? In this post, I share how you can diversify your income so you can have a steady income as an artist. If you rely on Etsy alone, you may struggle.
Here are a few tips on how to make money from art.
Create Multiple Income Streams
Honestly, the best way to earn a steady income as an artist is by creating multiple income streams and not to concentrate all your efforts on Etsy alone.
Let me explain.
Etsy is the type of marketplace where there can be busy seasons and slow seasons. Their busiest season is in the fall leading up to Christmas, which makes sense. This is the busiest season for most businesses around the world.
Now, if you're relying on Etsy alone for your income, you have to be really good at budgeting what you make during the busy months for the rest of the year. Otherwise, you may want to look for other options.
It's pretty much in line with the saying "It's best not to have all your eggs in one basket".
Personally, even from the beginning of our business, we've had multiple income streams. And this is something that even the Bible recommends. Let me share you this verse from Ecclesiastes 11:6. It says
"Plant your seed in the morning and keep busy all afternoon, for you don't know what profit will come from one activity to another. Or maybe both."
You don't know which "activity" will work and which will not. Or both may work out if we plant multiple seeds.
Change is Inevitable
Now, the main reason why you should diversify your income is that everything changes. And that's the thing about being an entrepreneur and having a business. You must be willing to flow and adapt to those changes. And that's where having other options come in.
It happened to us before. We were successfully earning royalties from our books through KDP Select on Amazon when suddenly, Amazon's algorithm changed. After which, we ended up not earning as much as we did before. If that had been our only income source, it would have caused us to panic. It was still hard and we had to adjust, but it all worked out.
The same thing with Etsy. You can have a very successful shop on Etsy, but all of a sudden, Etsy decides to change something. This could change the income you make. Imagine how that would be for you.
Having multiple streams of income can potentially allow you to have less stress and give you a better opportunity to earn a steady income as an artist.
And this is supported by the Bible. In Ecclesiastes 11:2 it says,
"But divide your investment among many places for you do not know what risks might lie ahead."
We live in a world that changes suddenly; it's got ups and lows. So, the smart thing to do is to diversify and have your eggs in multiple baskets.
How to Make Money as an Artist
Having multiple streams of income is not about living in fear; it's about being prepared.
I have multiple streams of income so that if any one of them is compromised in some way, it would be tight, but we would be able to figure it out and move on. And when I say, "figure it out," it means asking the Lord, "Okay, what's next? Where do we go from here?"
He keeps redirecting us. He keeps showing us what to do, step by step.
Here are some of our income sources for the past year:
If you're wondering what you can do to diversify your income, we have a free training for you at yourcreativeadventure.com/artistincome.
In this training, I share 10 different ways you can earn income as an artist. It will give you a lot of ideas. So, I recommend that you take the free training as a first step.
An Effective Way to Diversify Your Income
Now that the holiday season is over and the Etsy shop slows down a little bit, you have more time to invest in other things. But let me tell you this, you can't do it all at once.
If you try to do everything at once, it's not going to be effective. You're not going to make headway in anything. You must think it in layers.
For me, I have always worked on one main thing at a time until it is profitable. I like to use the acronym for the word FOCUS. I didn't come up with this, but I love it.
F – Follow
O – One
C – Course
U – Until
S – Successful
And I like to add "and Profitable".
So how do you do this?
Before you add another stream of income aside from your Etsy shop, first make sure that your Etsy shop is profitable. To determine that, you have to look at:
how much money are you making (what is your revenue)?
your total expenses
your profit
The formula is simple. You just must use this: revenue – expenses = profit
If you see that your Etsy shop is not yet profitable, spend the downtime optimizing keyword phrases and optimizing your shop. I have a course Etsy Shop Makeover that walks you step by step in exactly what you can do.
One of my mentors says that when you're moving from being a hobbyist to an artist who sells their work, it's like you're on a bridge. You have to have that mindset of "it takes time to build a business".
It's a marathon, not a sprint. So, think long term. You have plenty of time to add additional streams of income. There's no rush, no hurry. Go at the pace of God's grace.
God Ideas to Make Money as an Artist
Always ask and pray for "God" ideas. You can have good ideas, but it's best if you have God ideas.
What are "God" Ideas?
It's like "manna from heaven." Seeking God ideas is seeking God's provision. His ideas, instructions, and guidance on how to continue in your art journey. It's something that we wouldn't have gotten on our own.
There are a lot of good ideas that we can come up with. But God ideas can last into eternity in terms of their impact. These are revelations. It's not just about money, although that's also a part of it, it's also about the influence and impact on people that goes beyond this world.
Ask the Lord. What do you need to do for this season? What should be done now and what should be done later?
The Bottom Line?
I want to encourage you today. Some of you might be feeling inadequate. I want to tell you right now that you have what it takes. You have a limitless God who has the power that raised Jesus from the dead and He's able to do exceedingly and abundantly more than you could ever ask for or imagine (Ephesians 3:20).
And He is going to be with you on this journey. He is going to empower you.
If this is what He called you to do if this is your assignment in the kingdom of heaven, do you think He's going to leave you out there by yourself? Absolutely not. He's going to equip you and open doors for you. So, trust Him today.
I hope you get encouraged by this message today. I want to hear from you, so please leave your comments below.
Learn How to Diversify Your Income as an Artist
Get more ideas on how to diversify your income and make money by doing what you love. Learn 10 ways you can increase your income as an artist here: www.yourcreativeadventure.com/paidforpassion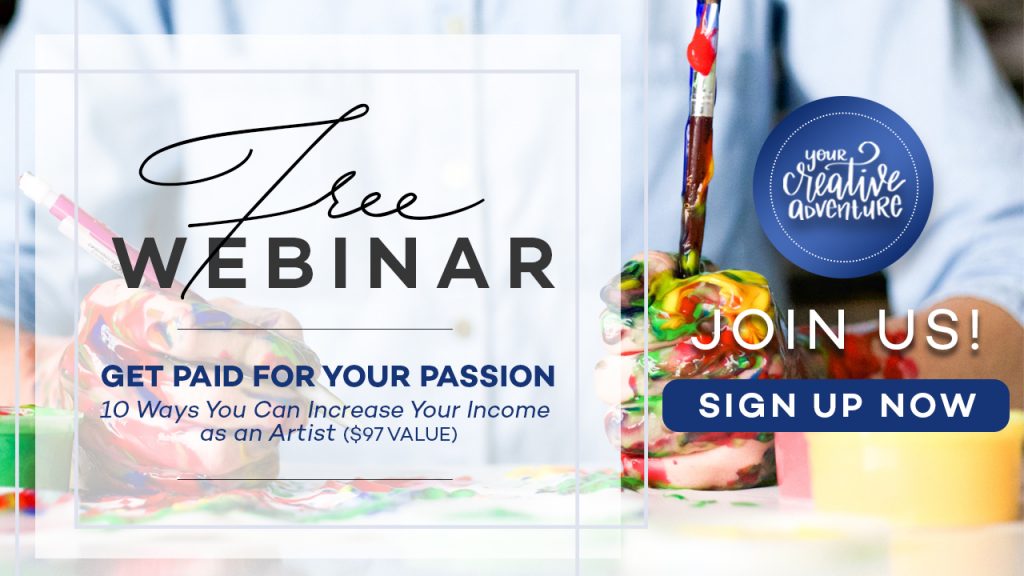 Earn an income while doing what you love…your art! Join me for this free webinar on 10 ways that you can increase your income as an artist. Click on this link to claim your spot now: https://yourcreativeadventure.com/paidforpassion/
You can make money doing what you love. Is it easy? Not at all. Is it possible? Absolutely, yes!
Find out how I did it in my free training here.
Keep Reading