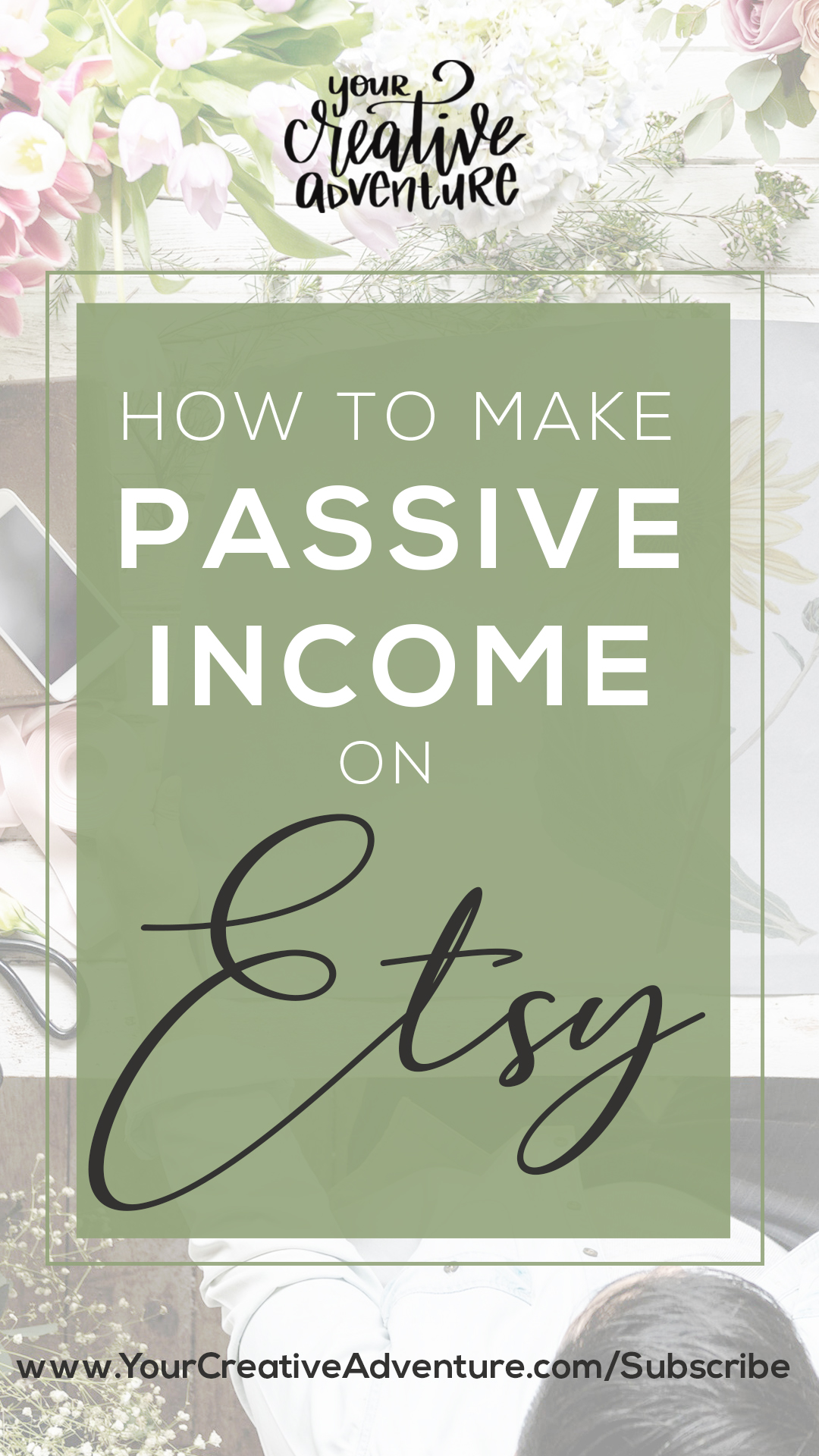 It is a dream for us creatives to learn how to make passive income for artists. Then, we can enjoy doing what we love and earning an income from our art. In this post, I share with you how to earn an Etsy passive income without the need to spend a lot of effort or time.
Etsy Passive Income
For the past couple of weeks, we discussed all about your Etsy shop. We discussed the following:
And today, we're wrapping it up with this question:
Did you know that you can create an almost passive income on Etsy?
A lot of times when you think of Etsy, you think of handmade, physical products. That's naturally what comes to mind when you hear of Etsy.
But what most people don't know is that you can also sell digital products on Etsy as well.
That's what I did when I was just starting on Etsy. When I first started, I didn't want to deal with all the sales tax and shipping. Hence, my first products on Etsy were digital downloads – my lettering practice sheets.
Soon after that, I started doing hymn prints.
But why would you want to sell digital downloads on Etsy?
Advantages of digital downloads
1. Low cost, low risk.
Digital downloads are really low risk. Why? It's because you get the highest profit margin for the least amount of work with no inventory.
You don't have to store any physical products. With digital downloads, you're not shipping it or putting any additional costs into printing or creating a physical product. This means less cost and less effort for you.
2. Real-Time Delivery
Your customer can get their purchase real-time through Etsy. As soon as the purchase is done, Etsy automatically sends the product to your customer's email address. Isn't that cool?
Instead of saying that it happens automatically, I'd like to say that it happens "automagically". Everything words great!
3. Affordable and Accessible for your customers.
In time, you will notice that your customers will enjoy your art more if they can access it easily and if they can get it for a cheaper price. That's why having digital downloads is a great option to put your artwork more out there for people to see.
4. Delivered internationally, real-time, minus the shipping cost
You can be asleep at 2 AM while your customer from the other side of the world get their purchase real time even if they are in a different time zone. Isn't that amazing? You can sell products 24/7 and you don't have to send it to them internationally.
How Does Etsy Digital Downloads Work?
It's really easy.
When I say passive income, it means that it's a set-it-and-forget-it kind of listing. You upload a digital product to Etsy, and they will handle the rest of the transaction for you.
The only thing that you have to maintain is your messages in case of customer support issues. But if you are not able to invest in a lot of time in your shop this can be an option for you.
Setting up Etsy Digital Downloads
It's much like setting up a new listing on Etsy. However, instead of listing a physical product, you will choose the option "digital downloads". Choosing this will take away the shipping option and add a way to upload your files that you're going to sell and deliver.
Here are a few more things to consider when selling digital downloads on Etsy:
Digital Specifications on Etsy
Etsy allows you to upload up to 5 digital files, and as of this time, the maximum time for each file is 20 MB.
Now, if you have something that's larger than 20 MB, you can always upload it in another hosting area, like your website or Dropbox, and put a link to download that file inside the PDF.
Digital files can be in the following format:
Audio/Video
MPEG/MP3 file
Images with a format like GIF, JPEG, PNG, TIFF
PDF
Text file
How to Deal with Piracy
Before we get into more brainstorming on ideas on what you can do, I want to address this. I know there are some artists that are concerned about having digital files of their work available.
I often get questions like,
"What if it gets shared and copied to other places?"
"How about all the money I could be losing?"
Yes, these are valid questions. However, what I find more often than not is that this is usually birthed out of fear and scarcity. I heard someone say that "Piracy is not your biggest obstacle. Obscurity is."
The approach that I chose to take when it comes to this is "abundance". Even if it's passed around without your consent, you are still becoming well-known.
And more importantly, you have to realize that whatever happens, this is going to add another income stream for you. We talked last week about having multiple income streams and diversifying your income. And this is another way to do that.
Now, every artist has the right to decide if this is the right thing for you or not. You don't have to do any of this if you don't feel comfortable with it.
But I will tell you, for the past few years that I've been in this business, piracy has not been an issue. And many people were blessed through the products I sold while bringing in extra income for us.
So it's still a decision you have to make.
Passive Income Ideas on Etsy
Firstly, let's start with the ones that I have in my Etsy shop. Here are some of the ideas that I've tried.
1. Printable Artwork. You can convert your artwork in PDF format and make it printable. Remind the customer however that it should only be for personal use.
2. Printable worksheets or forms. I have something that I call "Plan-It Day". It's a goal-setting worksheet. And these have been professionally designed by my graphic designer and I sold them on Etsy. So you can do something like this too.
And just a reminder, if you post a review for our podcast on iTunes, take a screenshot and email it to us at [email protected] and I will give you our Plan-It Day worksheets for free. I sell it for $47 but I give it to you for free because your feedback means a lot to us.
3. EBooks. You can create eBook versions of your books and sell it on Etsy.
4. Planners. Create printable planners and put varieties to them to make them unique.
5. Stationary. You can do printable greeting cards for all occasions.
6. Fonts. For lettering artists, if you've learned how to create your own fonts, then that's something that you can also sell on Etsy.
More Passive Income Ideas
7. Coloring pages. These are great because people can print them off more than once, especially if they have several children or if they're a teacher.
8. Gift tags. A great idea especially around special occasions like Christmas, birthdays, baby showers and the like.
9. Printable stickers. You just have to figure out the types of stickers that people buy.
10. Graphic design services. You can actually offer graphic design services like creating logo designs on Etsy.
In my Etsy Entrepreneur course, I teach you how to digitize your artwork. I also give you pointers on how to license your work and other options to commercially use your digital product.
11. Wedding Invitations. A lot of calligraphers can make a full-time income working for weddings. I actually saw a statistic that says that a calligrapher can make an average of $77,000 a year and most of that comes from weddings.
12. Party Decorations. 
13. Craft patterns for stitchery, knitting, crocheting, and selling.
14. Iron-on transfers
15. Scrapbooking papers and tags
16. Photography
17. Clip-art
18. Collage sheets
Those are just a few ideas. I hope it would spark a few ideas on what you can create.
The Bottom line:
I like to say test, track and tweak to see which options work for you or not.
Here are a couple of links on how to sell digital downloads on Etsy:
Selling digital downloads: https://help.etsy.com/hc/en-us/articles/115015628347?segment=selling
How to Sell Digital Downloads on Etsy – https://www.etsy.com/seller-handbook/article/how-to-sell-digital-downloads-on-etsy/47330319230
Free PDF: Should You Open an Etsy Shop – https://yourcreativeadventure.com/etsyorwebsite/
I talk about this topic more in my free training here.
I hope that this has been another helpful blog post for you. If so, don't forget to share this with other artists and share on social media.
What option for digital downloads do you think you can use for your Etsy shop? Put your thoughts and comments below.
Get More Passive Income Ideas and Get Paid for Your Passion
We're not done yet! If you can't find anything that you think will fit in your business, we have more to offer you. Learn 10 ways you can increase your income as an artist here: www.yourcreativeadventure.com/paidforpassion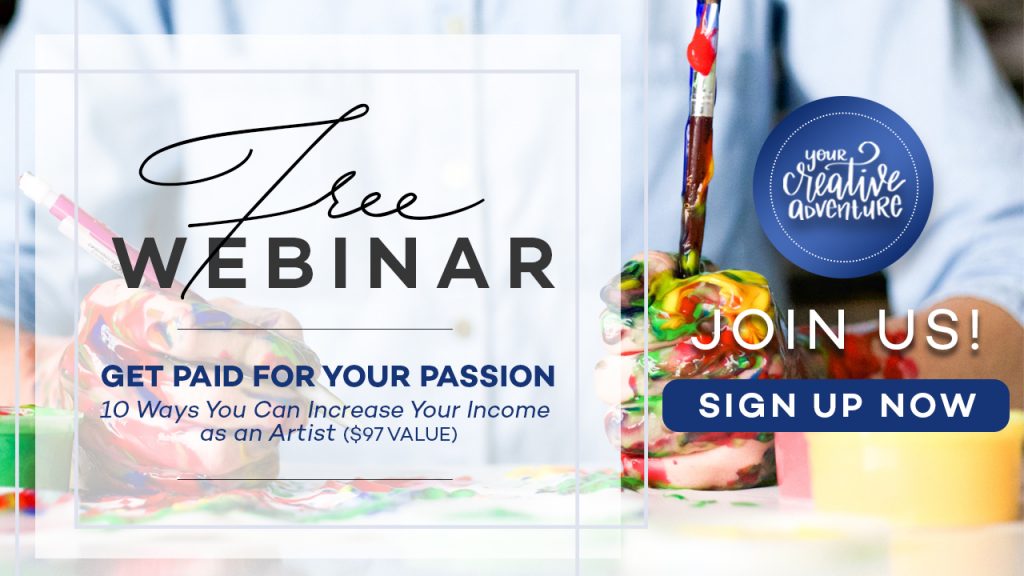 Earn an income while doing what you love…your art! Join me for this free webinar on 10 ways that you can increase your income as an artist. Click on this link to claim your spot now: https://yourcreativeadventure.com/paidforpassion/
You can make money doing what you love. Is it easy? Not at all. Is it possible? Absolutely, yes!
Find out how I did it in my free training here.
Keep Reading